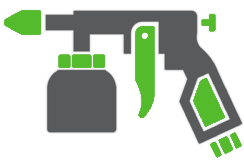 Small and large sandblasting booths for cleaning parts
Metal Works offers a wide range of sanding booths with different abilities and capacities. The combination of powder and solid steel, the sableercabines of Metalworks are suitable for both industry and leisure; for garages, workshops or jewelers. Want to clean the bottom of a boat, the body of your car or the front of your house? Use a mobile sandblasting booth.
Choose a few clicks your suitable sandblasting cabin on Vynckier.biz. Do not forget to find out a compressor.